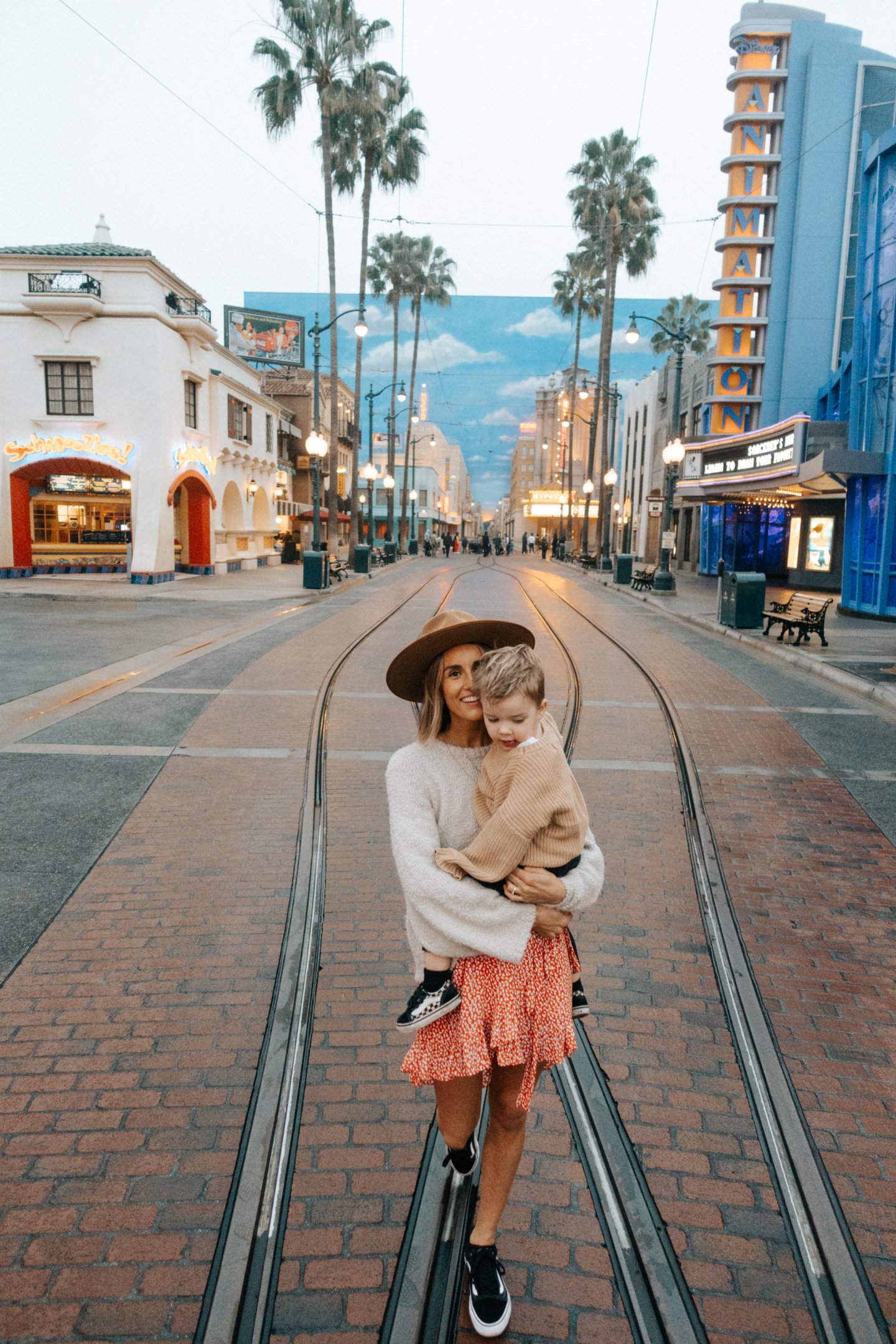 Have a plan or just wing it? If you don't have kids with you then I would still make a list of the ride you want to hit and have them mapped out but other than that just explore!
If you have kids, make a plan! Pick an area of the park you want to do in the morning and an area you want to do in the afternoon and set your expectations of sticking to the plan low haha. We have done Disneyland with our kids for 3 years now, so they were quite young when we started and we never try to get too many rides in. We will plan to do 2-4 rides for in the first half of the day depending on how busy it is. This leave lots of time to sit for a snack, or line up to meet a character. I've seen parents in line for rides with a kid freaking out and they're having a stressful time. Sometimes the best thing is to bail on a plan and just go with the flow. Make it fun even if you're just sitting on a bench watching rides go by.
We always go back to the hotel after lunch for a couple hours, let the kids (and us) have a little downtime. Nap, have a bath, or swim in the pool/hot tub. And then we head back later in the afternoon so they have the energy to make it through the evening.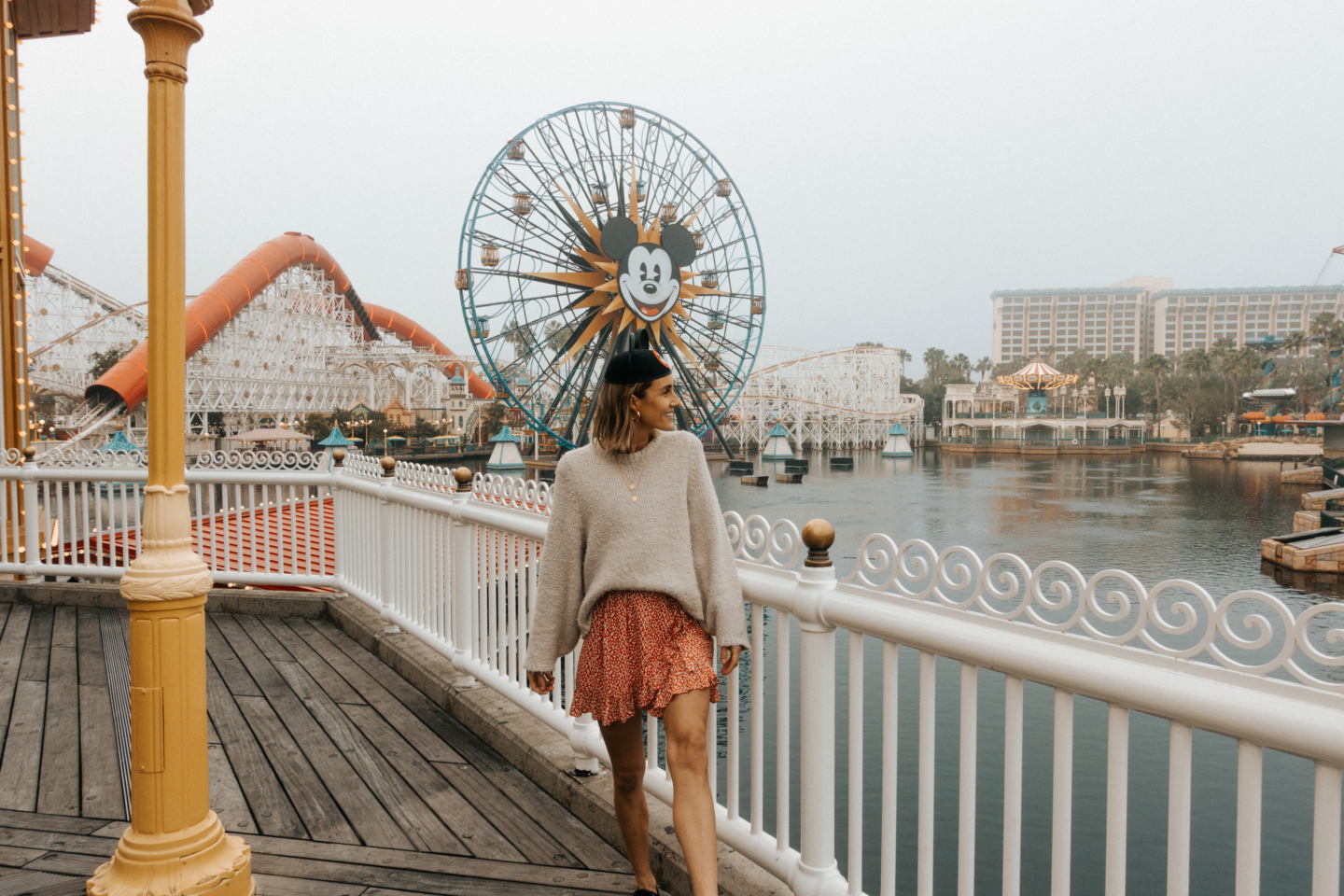 What to eat? Best food in the park? My favourite spot to get food is the Pacific Warf area in California Adventure Park, lot's of options and a nice spot to sit. I like the Mexican Restaurant, and the kids quesadilla meal is good (get extra rice instead of beans if you have picky kids like mine). The margarita is too sweet unfortunately (and I like sweet!!), Get two cups and half it with a beer 😉 DIY Mexican Bulldog Cocktail.
Flo's V8 Cafe is a great spot too. Sit around the back where you can watch the Radiator Springs Racers going by, If you're a nursing mom that's a good spot to sit in the shade and use wifi 😉
Vegan Options? We had a chance to chat with one of the chefs and see all the plat based options they have been working on, and there are a lot! This is super detailed blog post about the vegan food you can find in the parks.
Most efficient way to get FastPasses? The Disneyland app or just send one person around with all your tickets.
Best way to shorten wait times? Line ups with kids? Download the Disneyland App so you can book your ride FastPass from there. Download it before your trip and play around with it because you're not going to spend the time exploring the app once you're in the park. But I would recommend spending the money on a MaxPass at the beginning of your day so you can take advantage of booking your FastPass from the app right from the beginning of the day. You pay per day, per ticket – So it also might only be worth it on the adult tickets if your kids aren't tall enough to ride the rides you're booking a FastPass for.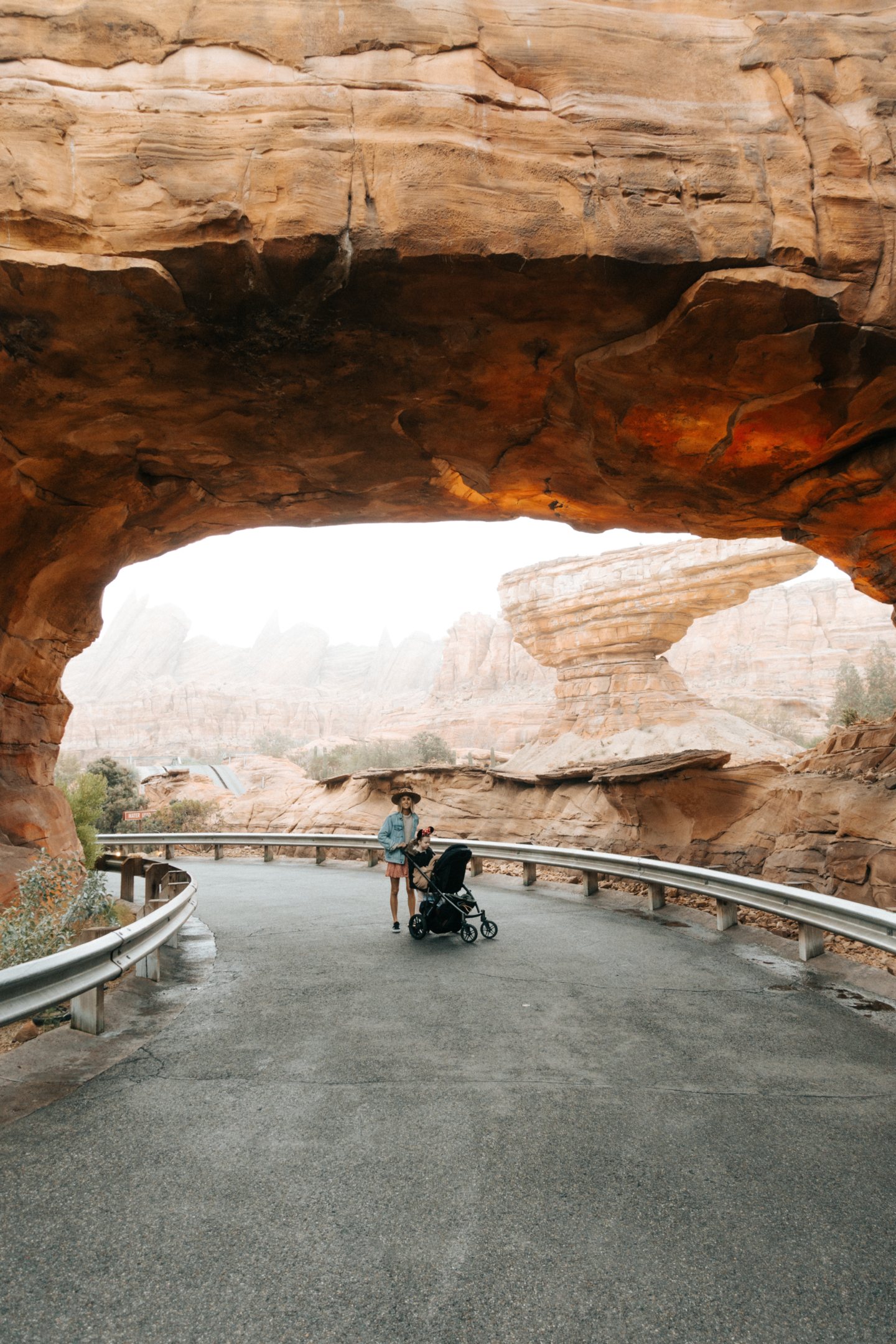 How do you do the rides you want to do when you're with kids? Ride share! Best way in with a FastPass (but you can also do it without). You can only book a FastPass for one ride at a time (technically their are ways to book more), BUT when you're with kids you can do a rider swap. So if you and your partner each get a FastPass for different rides you can show up and tell them you're going to swap, they will then scan your partners ticket and after you ride it then they can go into the FastPass line for a turn. This is the best way to do the rides you can't with kids. You can also do this with another couple if you're going with other families.
If I didn't explain this well read this blog post.
What to wear/pack for winter weather in LA? Definitely layers, when the sun is not out it's cold! But middle of the day I was in shorts & a tee. If your hotel has a pool don't forget a bathing suit like David did 😉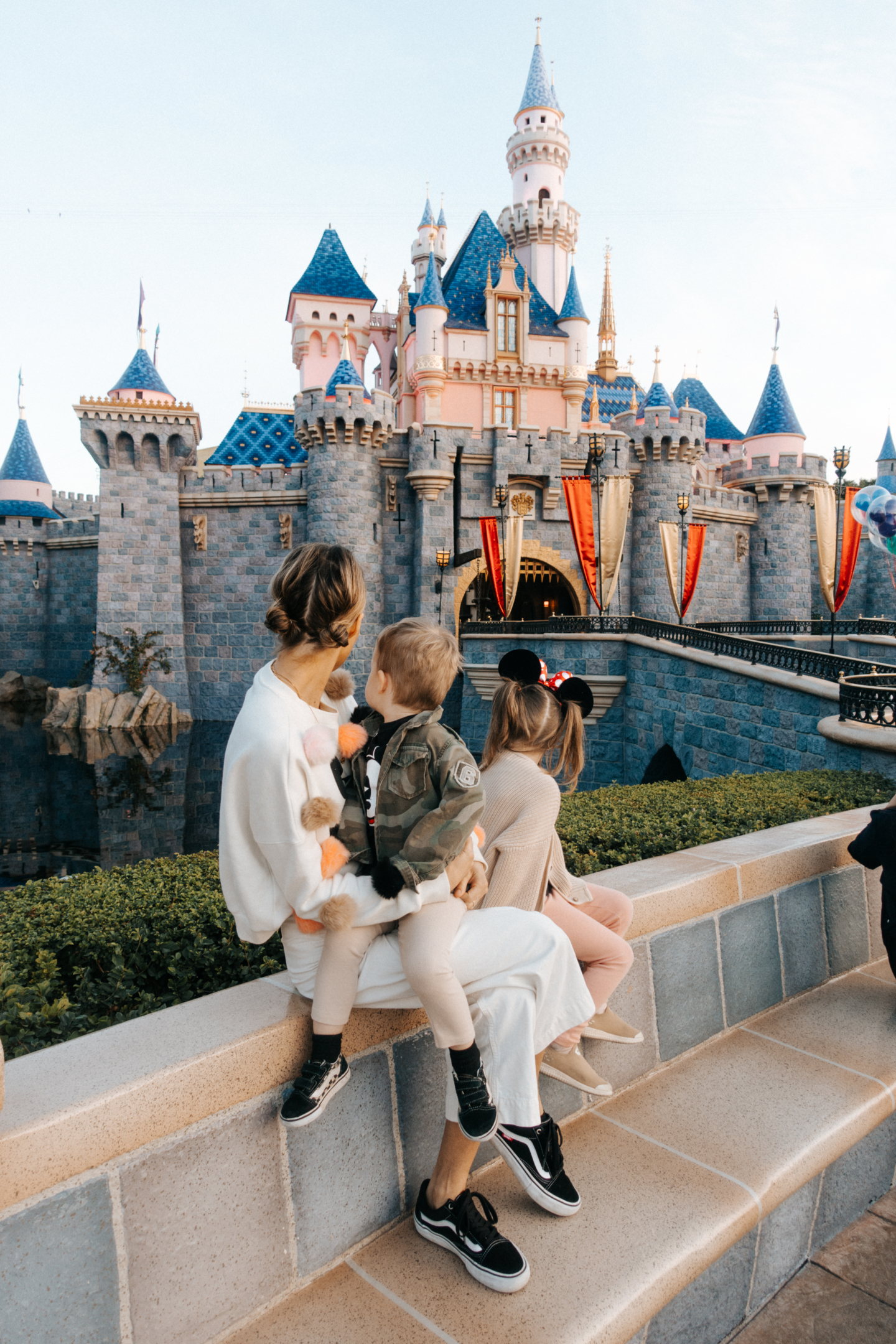 Kid Friendly Rides? There are lots, but I'll list some of our favourites…
-Mator's Junkyard Jamboree
-Monsters, Inc. Mike & Sully to the rescue!
-Teacups (duh!)
-Ariel's Under the Sea Adventure
-Luigi's Rollickin Roadsters
-Pixar Pier Ferris Wheel
-Dumbo
– Turtle Talk with Crush. I never used to go to the shows that happened indoors but we tried it this time and, just like everything Disney does, it's awesome! Turtle Talk with Crush feels like your in an aquarium talking to Crush through the glass. Crush asks questions and just has a hilarious conversation the audience, we all had a good laugh in there. If you need a break from the sun or walking this is a good spot.
Hotel Recommendations? Best place to stay with kids? Is a Disneyland Resort worth it? We have done it all. Stayed on property and off, a short walk to the park and a drive away from the park. I have to say that staying at a Disneyland Resort is definitely the way to do it if you can work it into your budget. It made a world of difference being that close to everything.
We stayed at the Disneyland Grand Californian and from the resort you can enter right into California Adventure and into Downtown Disney. The pool area was a highlight for all of us too, even in January we were able to lay in the sun and let the kids swim for a couple hours each day.
If you don't stay at a Disneyland hotel stay as close to the park as you can if you're travelling with kids, it's really nice to be able to go back to your room for breaks.
How do you wear at hat at Disney?! You bring a stroller to put it in during rides 😉
How many days would you recommend for a group of adults? 3 days is my perfect amount of time for us, then I like to leave time on the trip to go to Venice beach. But I haven't done it without kids in a long time!
Do you need a wagon for a 4 & 6 year old? Yup! Bring a wagon or a double, you will nottttt regret it! It's a lot of walking, and you can also give them a lunch in there while you walk between parks and snuggle them up at night time while you go enjoy Pixar Pier with a glass of wine!
Order to do rides? Most popular to least! If you go early either head directly for the hot spots (Radiator Springs Racers, Anything in Star Wars: Galaxy's Edge, Incredicoaster, Space Mountain, Matterhorn Mountain -which I cannot ride anymore because I feel like my brain is going to fall out) OR just walk directly to the back of the park because people will usually start at the front.
Did your kids love it or were they too tired? They loved it since we don't over do it! David and I have the most fun when our kids are having a good time, so we gear it to their needs for the most part.
If you don't have much time what should you skip? Everyone loves It's a Small World… It's not my jam. The kids love Dumbo, but in my opinion it's too short of a ride for the line up and I also felt the same about the new Inside Out ride, only worth it if there's a small line.
How many pompom sweaters is too many pompom sweaters? There are never enough!
Tips on the new Star Wars land? Even if you're not a Star Wars fan, go here!! It's really cool, it's the largest themed land that Disney has created, and the detail is amazing. Here are some tips.