We moved from the suburbs to downtown Vancouver a month ago now. We feel pretty settled in for the most part and are really enjoying being in the city so far! We didn't downsize too, too much when it comes to square feet but come summertime obviously the yard will be a huge change. I think we might even research into the likes of this shed builder in MA or somewhere else to have a custom shed built. We could always do with some extra storage space too.
As you can imagine, finding our dream home was not always easy. We spent hours poring over real estate websites like Auction.com trying to find the right property for us. Some friends of ours have recently moved into a foreclosed home in Texas too so they gave us plenty of helpful tips along the way. Speaking of which, if you are considering moving house, it is well worth taking a look at some of the foreclosure properties in your area as you might be able to secure a new home at a great price.
Anyway, people on Instagram have been asking for a house tour, so this is a very unofficial and unfinished tour for you, or more so, little snippets of the space. Also, a chance for me to throw a bunch of links up here for you find items you've asked about.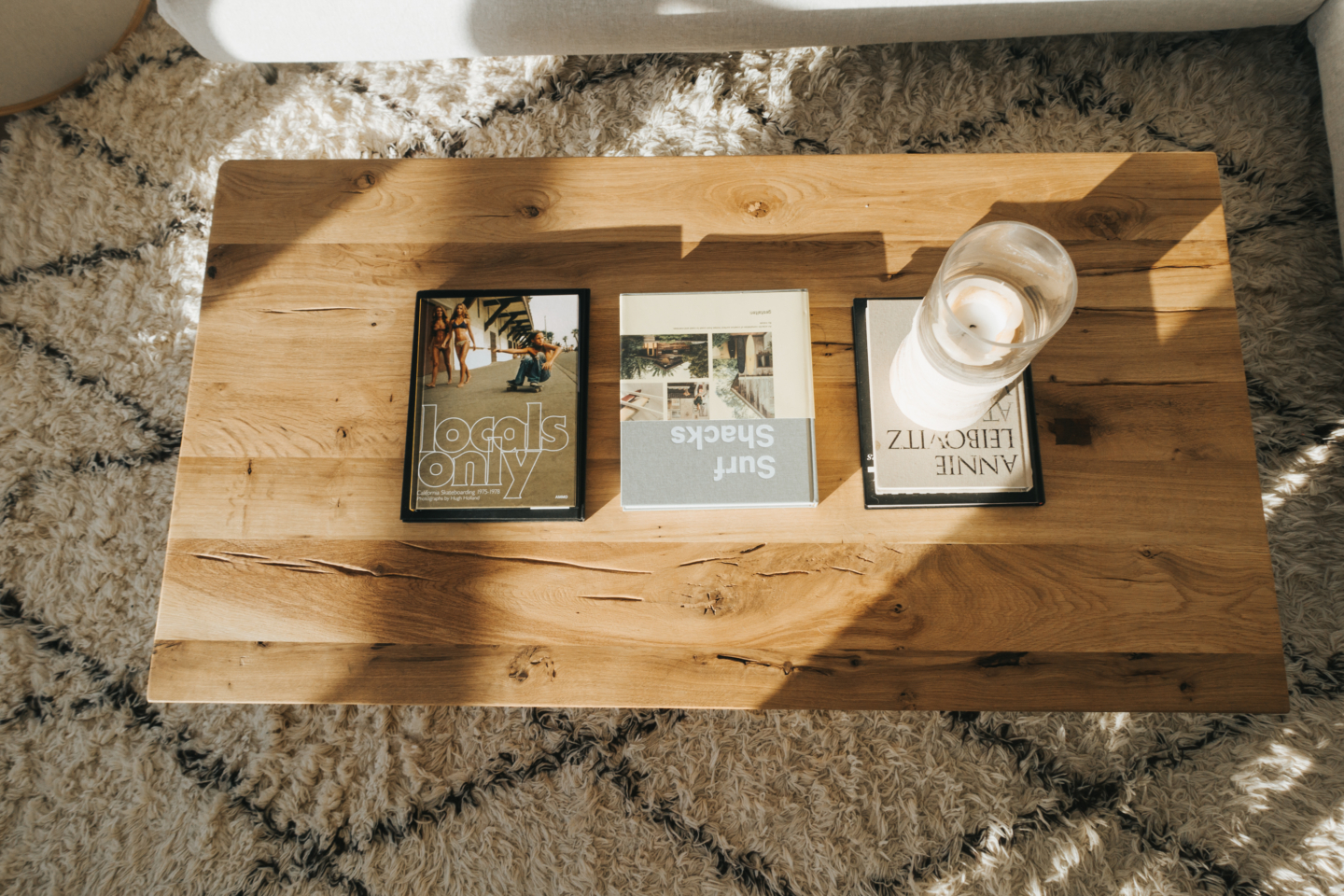 I'm in love with our coffee table from Sunday's. I spent wayyyy too long searching the internet for a rectangle coffee table that was 14″ or shorter and it was extremely difficult to find. But in perfect timing the Vancouver local, Sunday's, launched with just what I had been looking for.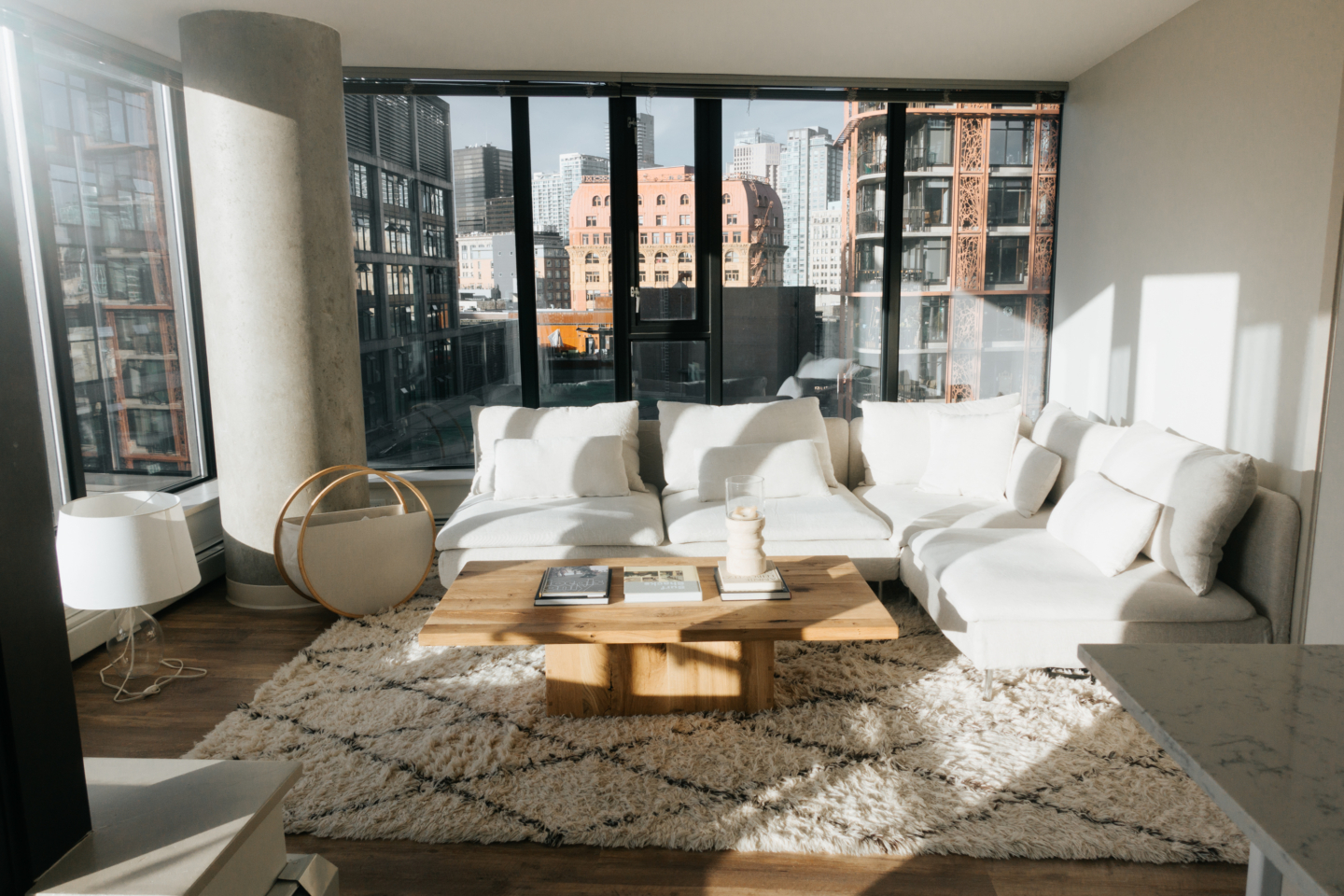 That lamp will not stay on the floor 😉 there will be a chair in it's place. Also, that lamp is only a temporary source of light! I have ordered a gorgeous Personalized Lover Creative 3D Print photo Moon Lamp to take its place. I adore customized lamps and after my friend bought one for her boyfriend I just knew that it would not be too long until I bought one for myself! I have customized our new lamp with a cute family portrait so I cannot wait for it to arrive. Also, I have yet to hang art above the couch. Here are the details of our sofa + round basket.
So, then if you spin around from facing the living room you're looking at this angle…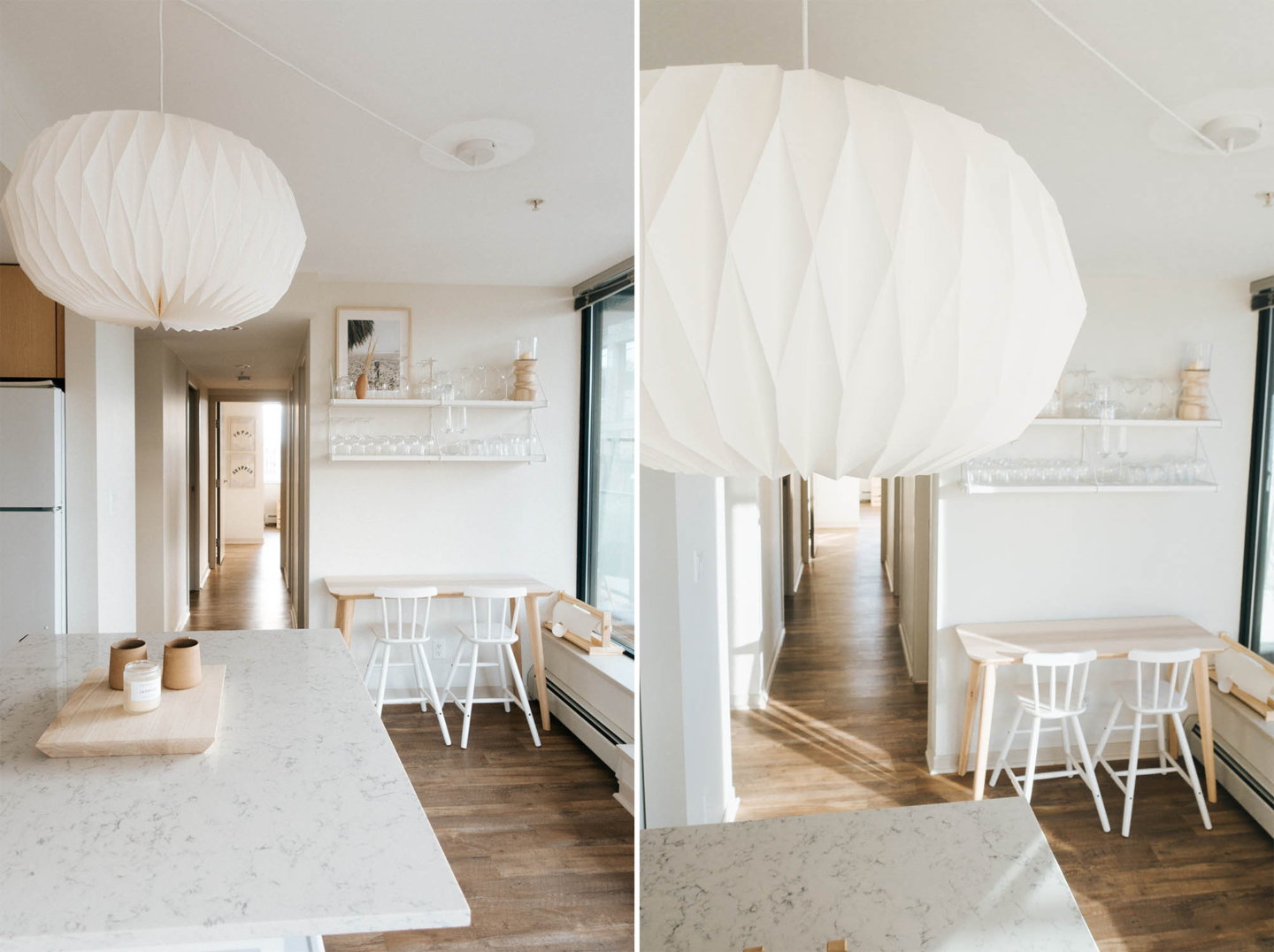 We opted for more living room space instead of a dining table. Even though I absolutely loved my dining table in our last place (R.I.P), storing it for later was a battle I lost ;). We did a little kids table area, which has been awesome! I do miss sitting down at a table together for dinner, but to be honest at this stage that didn't happen most nights of the week anyway, so for now this works well. We can rotate their table and the window ledge works as a bench for more kids.
The island with counter stools is for the "Grown-up" dining.
–Kid's table
–Kids chairs
–Shelves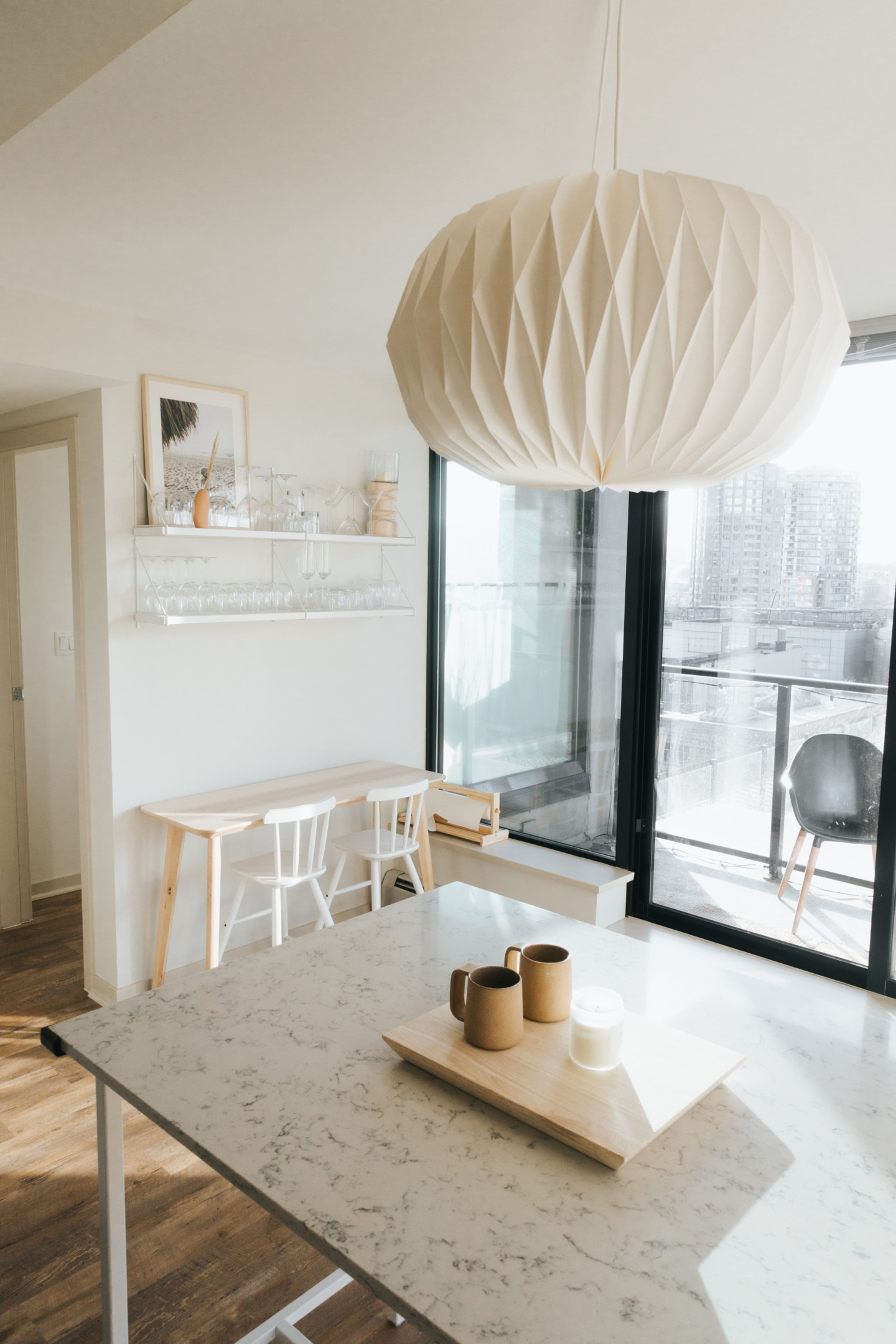 Our paper light fixture above the island is the Arlo Cloud Pendant from EQ3, I wanted something airy that didn't distract from the view out the window and I think it blends in nicely while still being a feature.
Can you see the foam corner protector on the island in the photo above? I was annoyed when David put those on right away and ruined the aesthetic haha. But, the next morning when Skip woke up he ran into the island so hard he literally bounced off. Thank goodness for David's practicality or it would have been a happy moving day ER trip ;).
Oh, and the pretty ceramic mugs are from Woash. If you've watched The Family Stone a million times like me and remember the scene with Luke Wilson give SJP the ceramic mug and says "that's Cybil's favourite", that's this mug to me.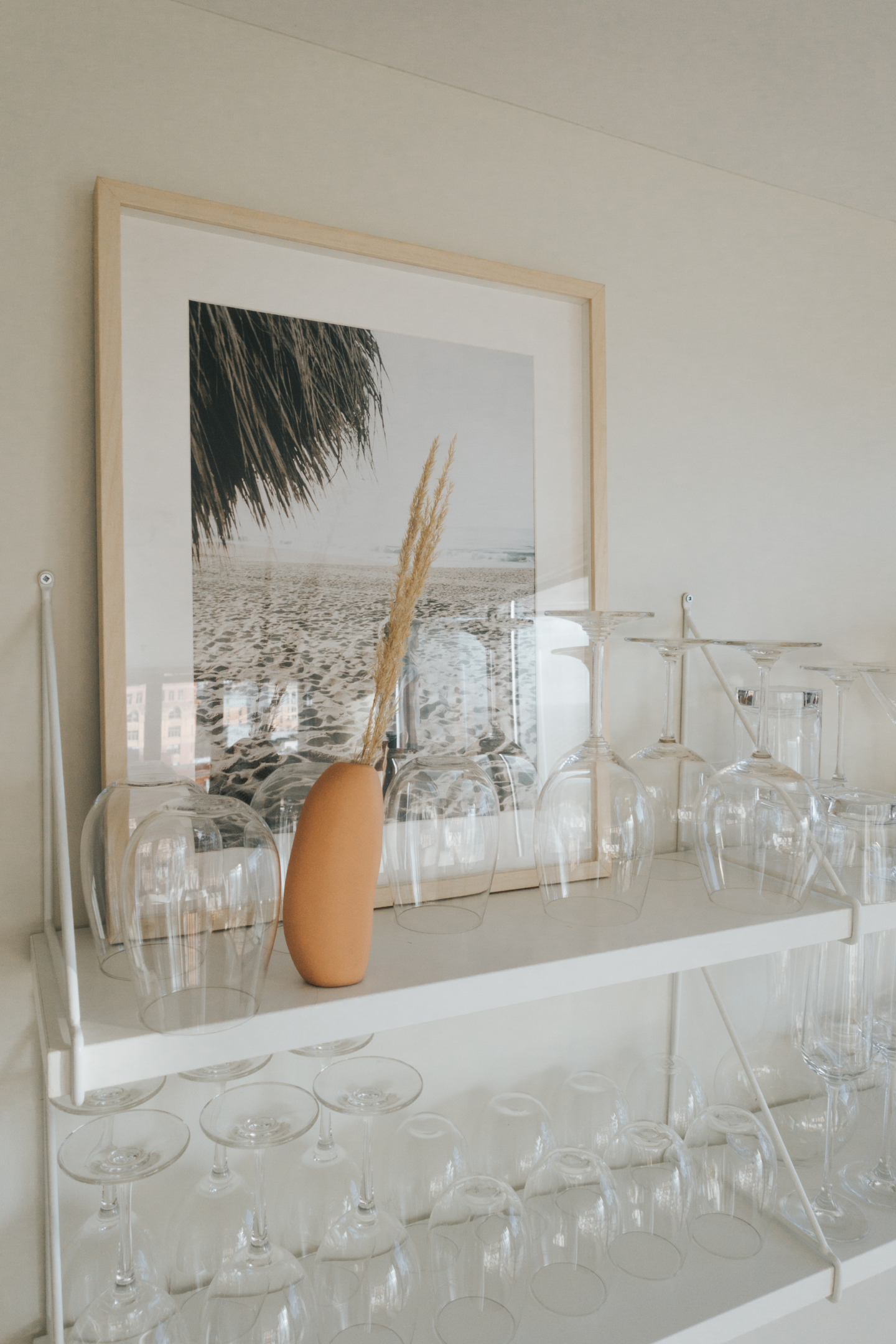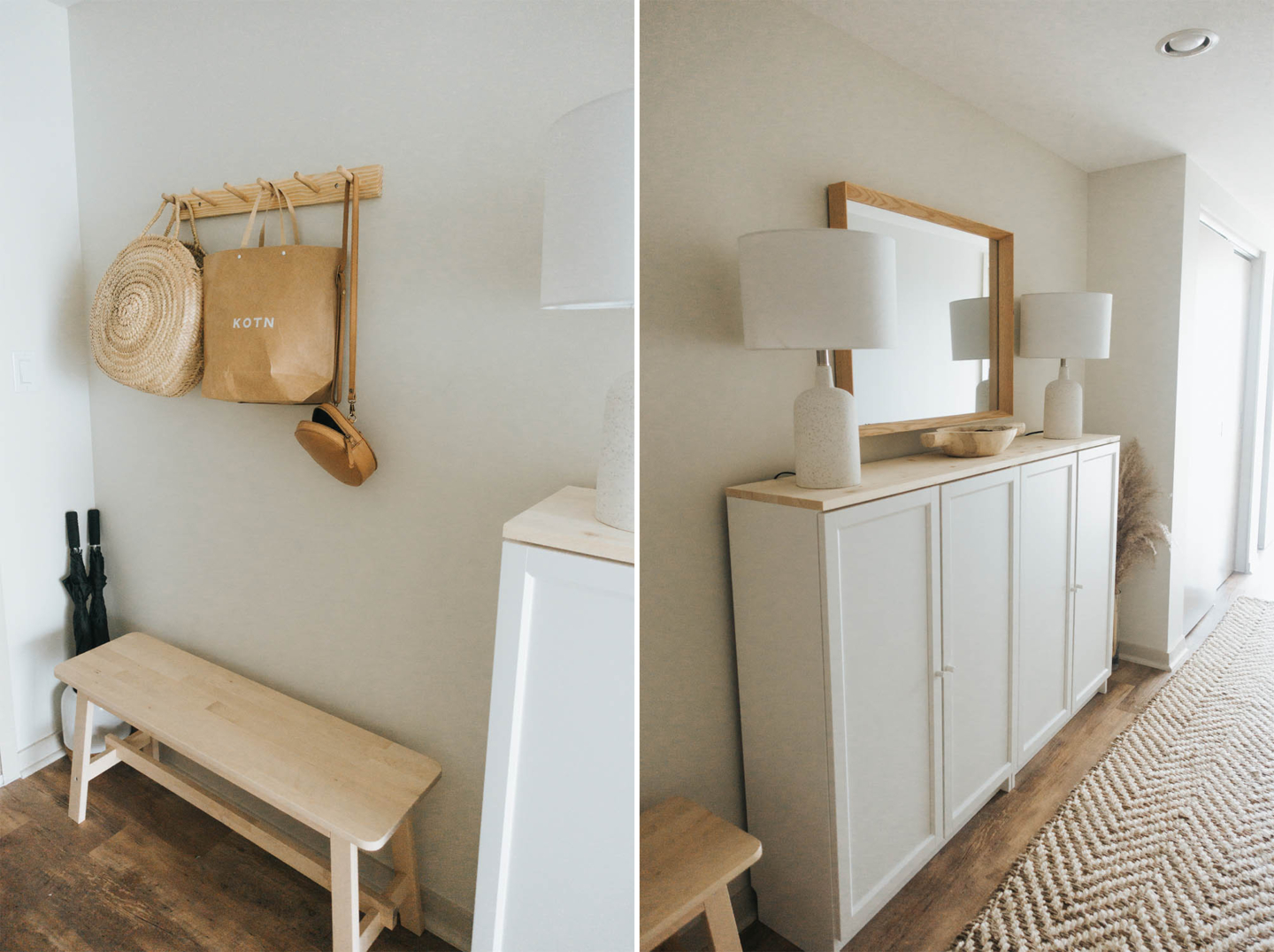 Above is the front entrance, it's a really long hallway with closets, which are great for storage, but obviously in an apartment you need as much storage as possible. So with my pretty vs. practical internal battle I struggled to find the right entryway console table but I'm super happy with how this IKEA hack turned out. It's 2 IKEA BILLY bookcases with OXBERG doors pushed together with just a piece of smooth project pine from Home Depot on top of them both to make it feel like one unit and I think the wood makes it feel a little less "IKEA" if ya know what I mean.
–Runner from Rugs USA in 2'6″ X 12′
–Bench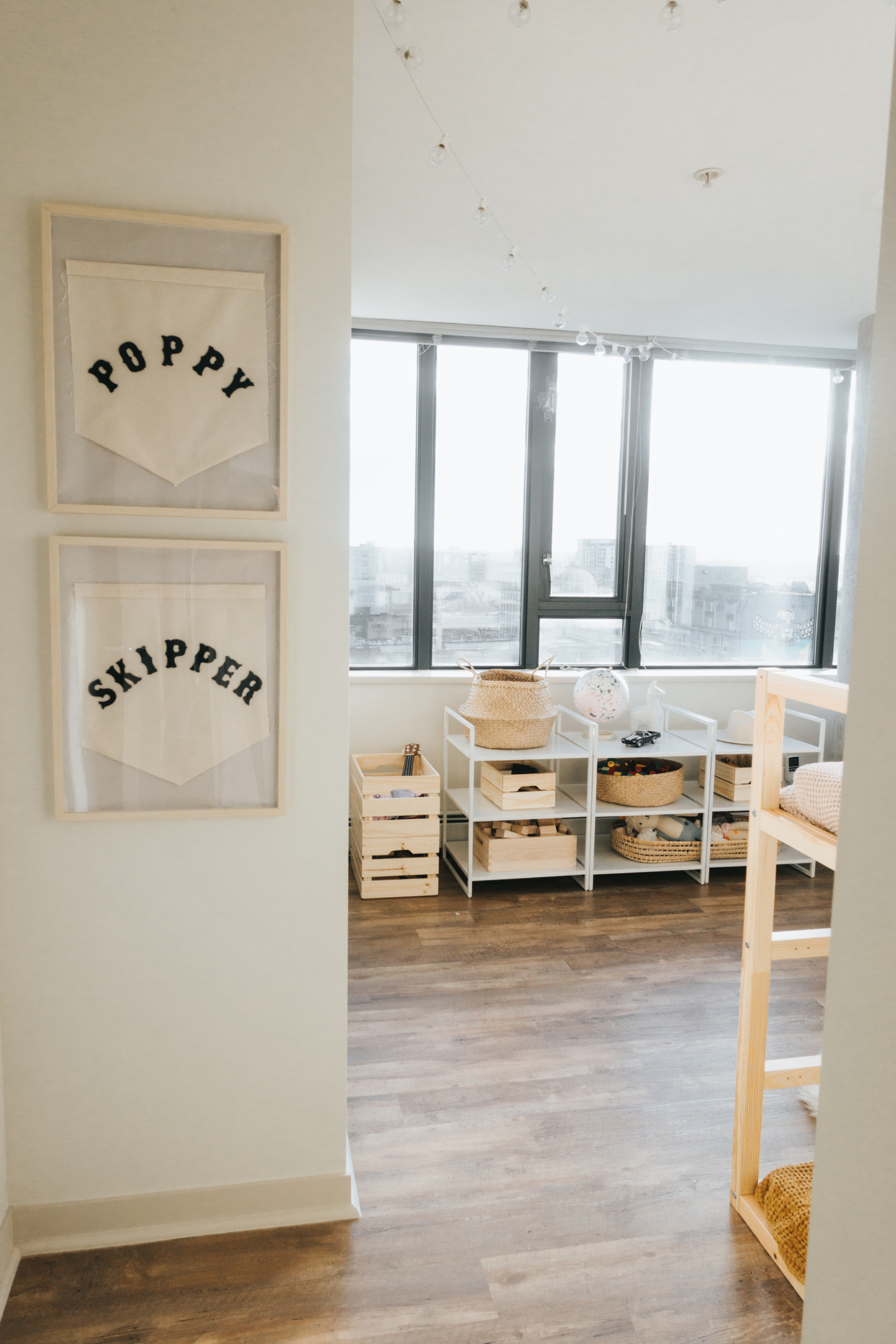 Up next, let's go to the kids bedroom. The apartment is 3 bedrooms but we liked the idea of them sharing because A. it's cute and B. it gives us a guest room/office.
-The Signs are something I made before Skip was born. I ordered felt letters off of etsy and hot glued them onto canvas cut into the shape of a banner.
–Crates & shelves
–Bunk Bed
–Waffle Blankets (I ordered a custom larger size)
–Book wall shelves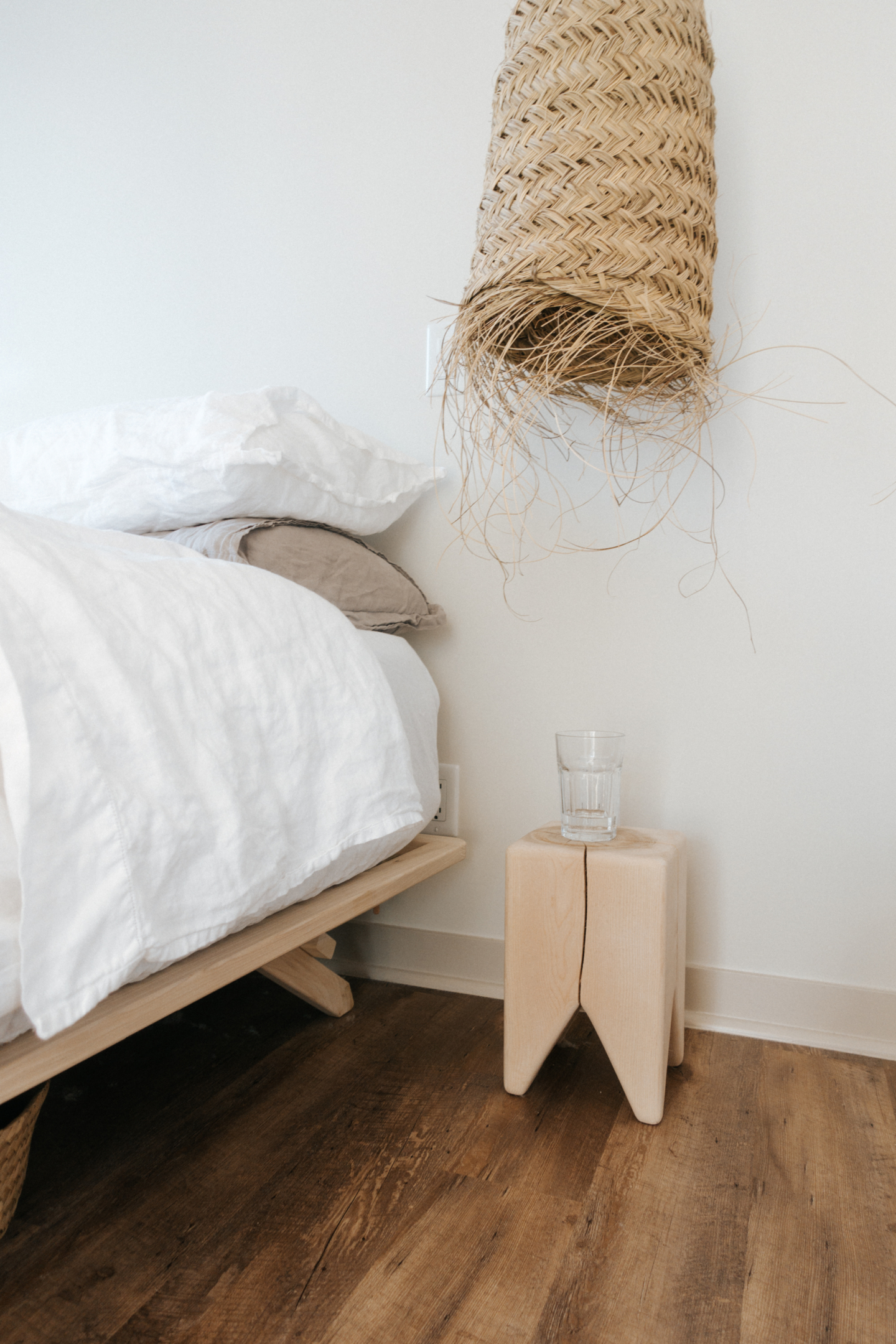 Just a little corner of our bedroom. Our bedding is from Last Light Collection it's the comfiest (and prettiest) linen bedding. In our last house I had it in a grey colour (you can see the colour on the pillowcases) and now have it in white for a brighter bedroom here. You've probably wondered if linen bedding is worth the investment. I have to say yes, honestly, every night I get in bed I notice how good it feels, never gets old.
–Light fixture is one my mom found at a shop in Arizona and I had it shipped because I loved it so much! This is a great source of light for us, but we are thinking about adding more lighting fixtures to our bedroom and living space as we go. But on saying that, we might need to find an electrician to help us achieve this. My friend who lives in Cambridge keeps telling me to "use Home-Pro Electric as your Cambridge electrician", which would be perfect if we lived in Cambridge, but we don't. It's a shame really as they sound pretty good, so I'm just hoping that we can find a similar company here. I guess we'll just have to wait and see. For now, I'm so pleased with this light fixture that we already have.
–Stump
–Bedframe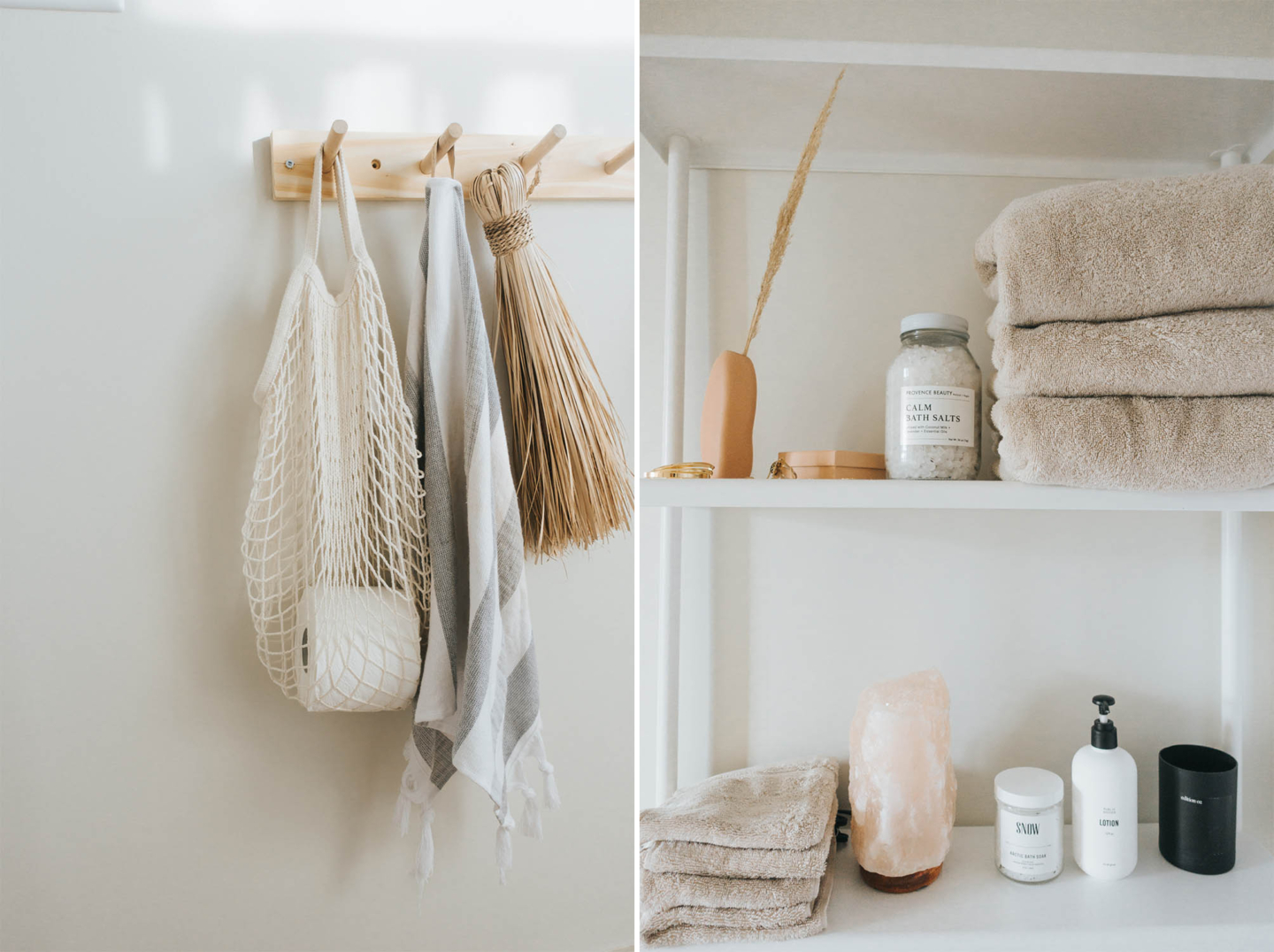 Lastly just some bathroom details. I didn't photograph the guest/office because it's not that interesting yet…