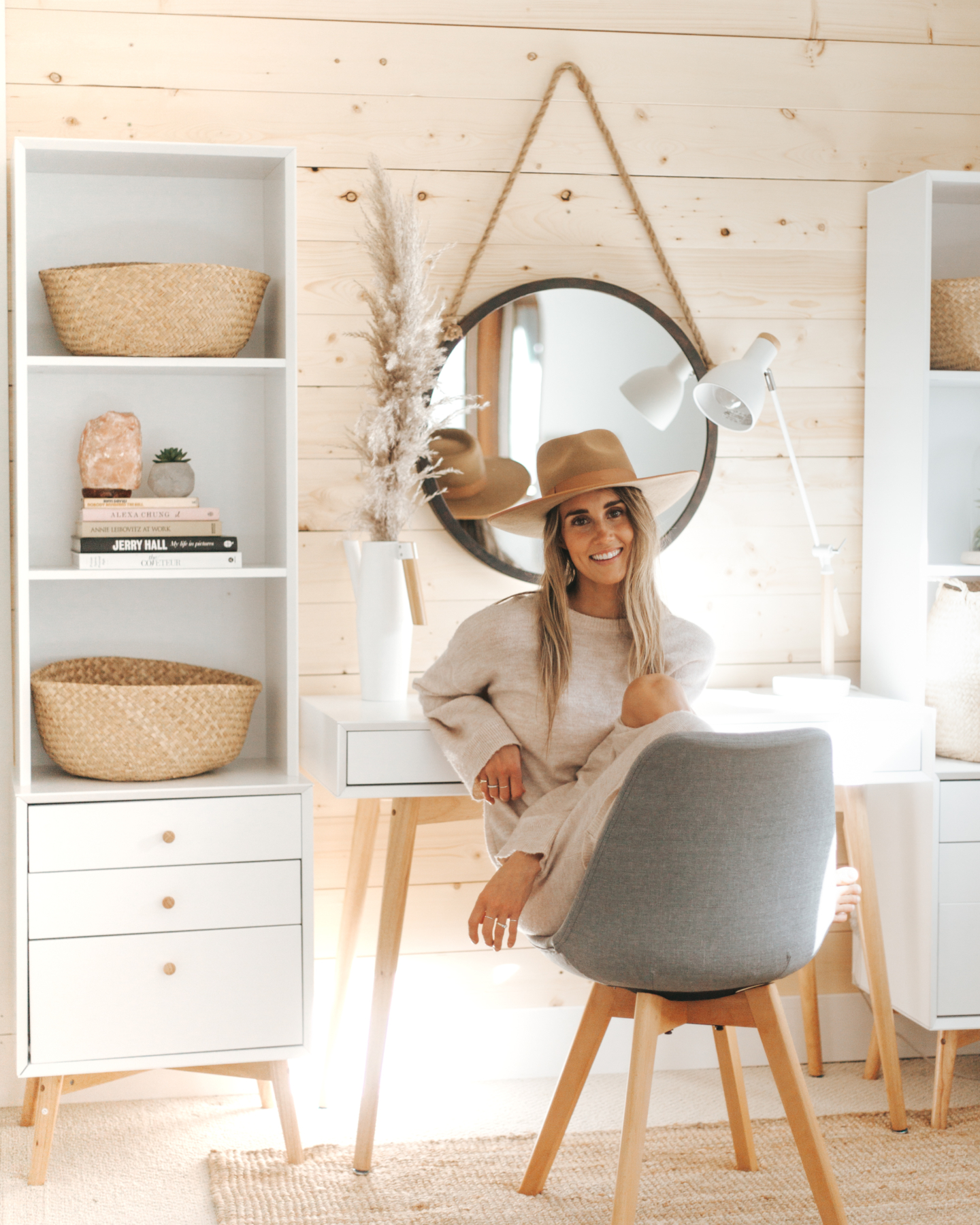 This past month we teamed up with Canadian Tire for the CANVAS Room Refresh in our bedroom using all furniture and decor from their fall/winter Living Collection. Changing up spaces in our home is something I do on the regular, so I was pretty excited to tackle this space. Our bedroom has this nook in it that I use as my office and it never got set up properly because it wasn't a priority since I was the only person using that space. Now that we've refreshed it with CANVAS I feel like it better reflects my style and it's a space that I really enjoy being in! I absolutely love all the new office furniture that I managed to find online. Let me share the details with you on what we did.
First we covered up that old fake wood paneling with a shiplap wall, and left its natural wood colour, which ended up going well with the wood details on the furniture. It took us a while to decide if we wanted to stick with the wooden theme. At one point a peel and stick mural wallpaper was on the table, but we fell in love with how this shiplap blended into the room. We used 1X8 pine boards screwed into the wall. Honestly, this has to be the easiest way to do a feature wall, especially since we decided not to paint it. We just added moldings on the sides to keep it looking tidy.
Then the furniture was moved in. Storage space was a priority to me. I have a friend who puts all their old paperwork and materials into a storage unit (which you can learn more here about), so concerned are they about their space. I understand that, but I have to say I am not quite to that level. I like to build the space into the place itself so I can easily access everything that I need, so I chose the CANVAS Copenhagen Desk and 2 CANVAS Copenhagen Bookcases to arrange together almost like a unit. This gives me tons of drawer space and the shelves fit my printer perfectly (not included in the picture because it's not photogenic haha).
I had my followers on Instagram vote on whether the CANVAS Rope Mirror should hang by a rope for a more rustic look, or if it should be more modern without. The majority decided it should have the rope and I love it!
Product links for this area: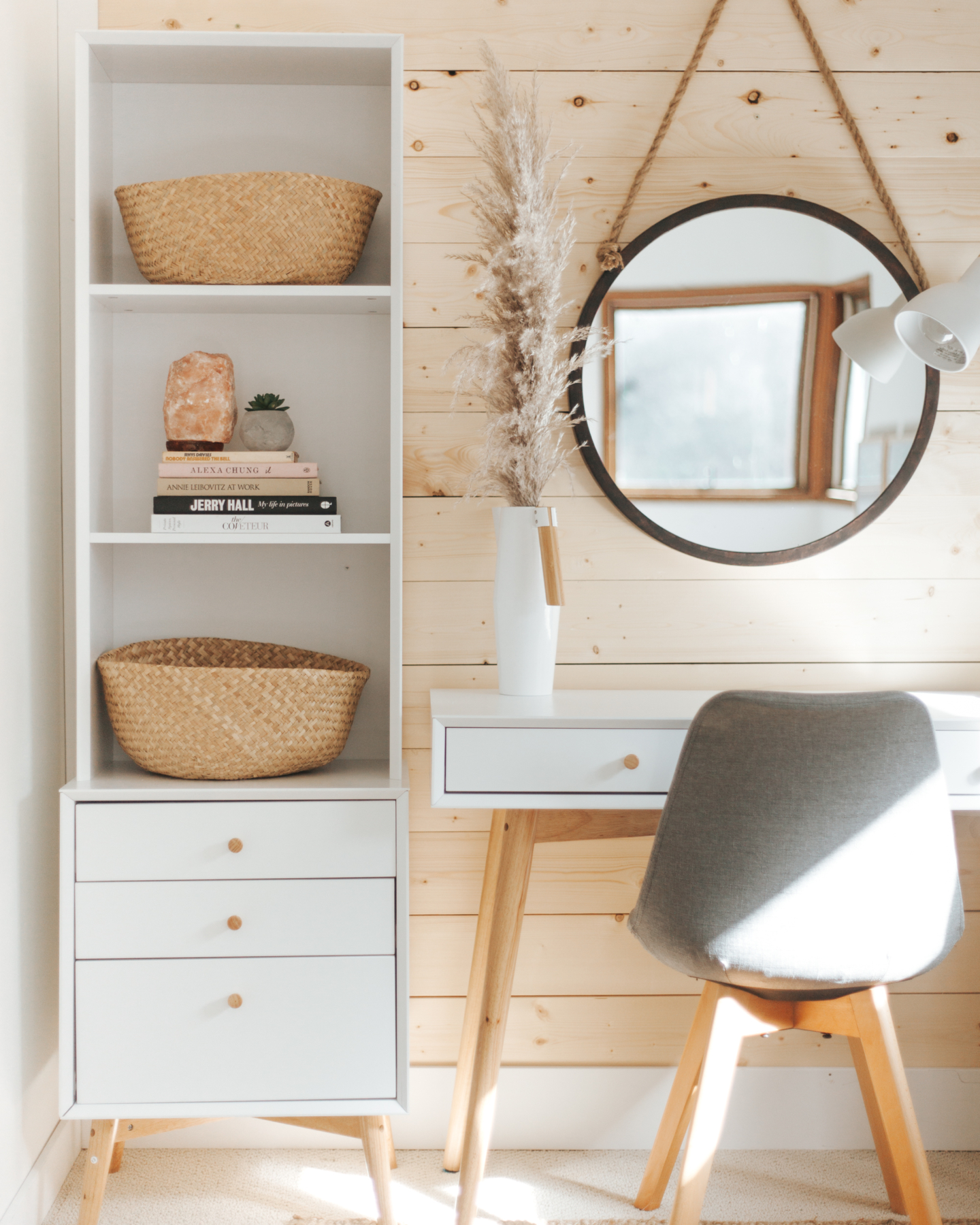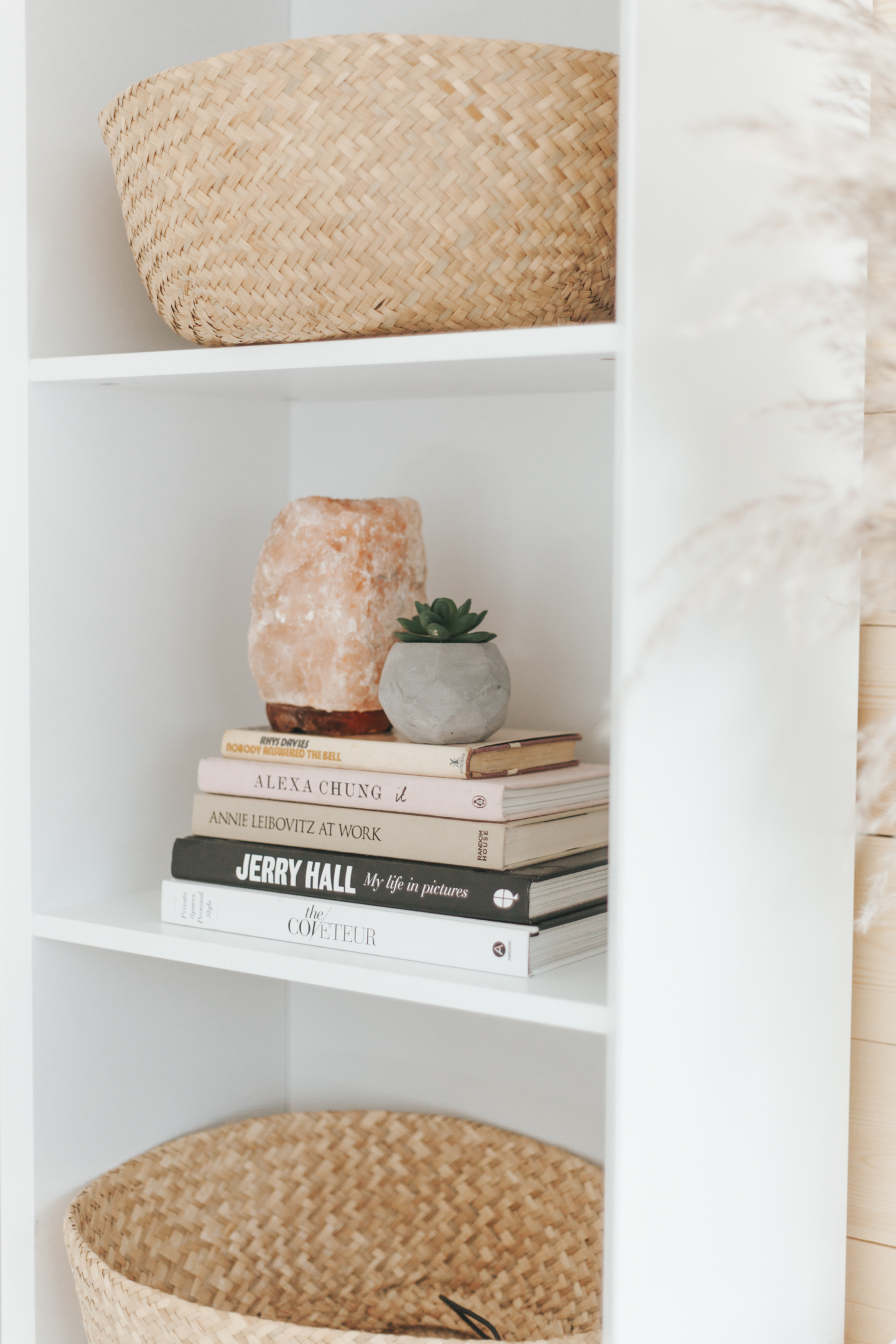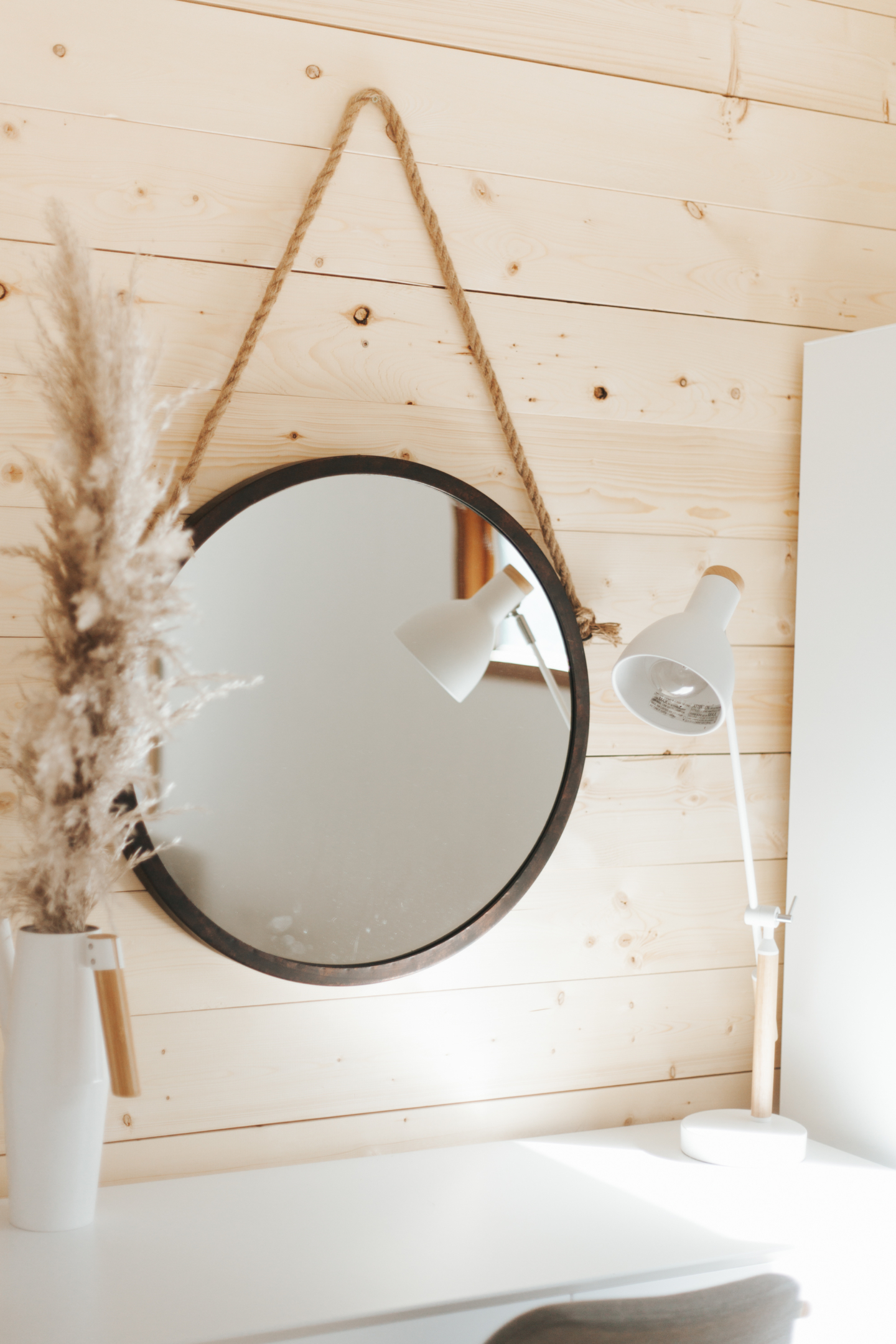 The other area in our room that we wanted to refresh is the wall opposite of our bed that has the TV on it (I would take the TV out altogether, but David likes to watch movies here every once in a while). If we're going to have the TV in our room we can at least have it on a nice looking unit and CANVAS had one we both really liked that is super practical with all of the storage for electronics and cords.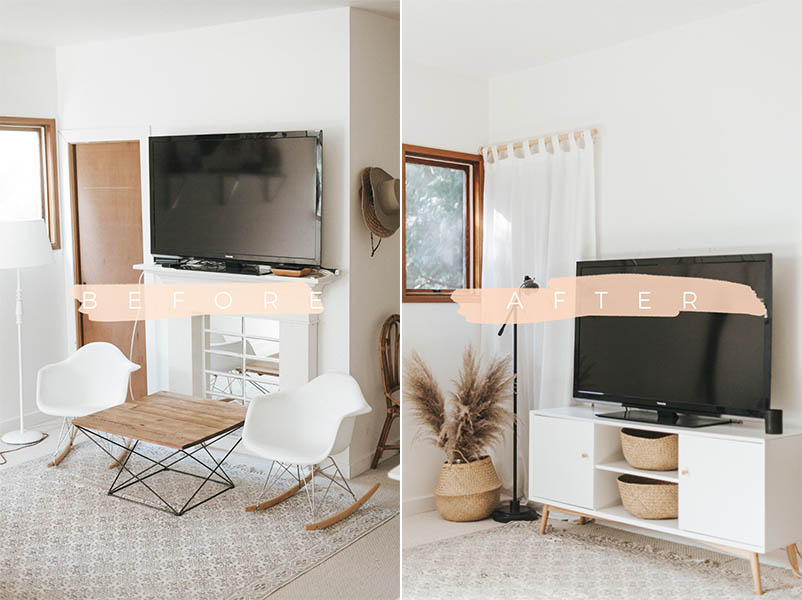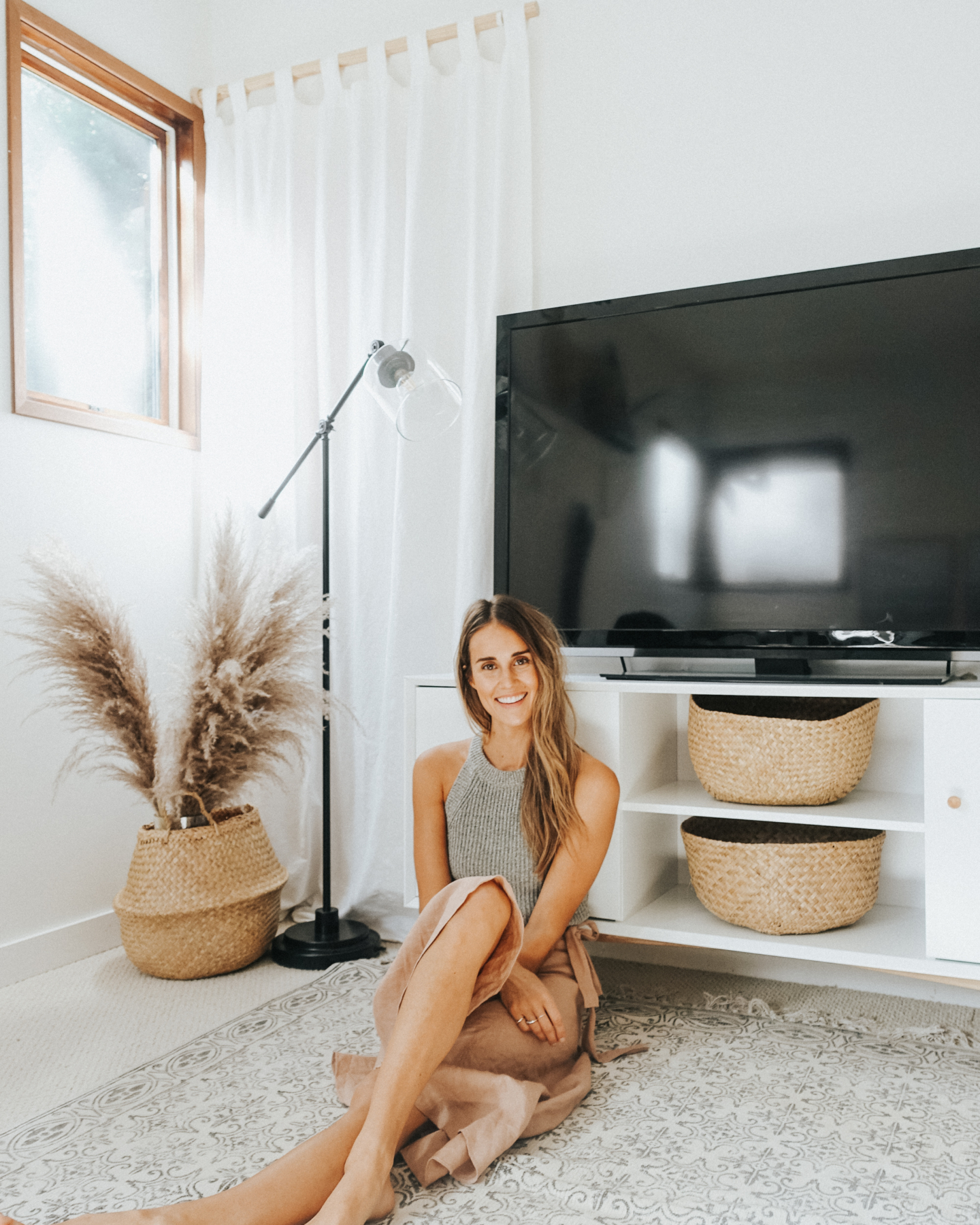 Before, we had this coffee table and rocking chairs here that I liked but they just weren't practical. We never sat in them and they took up a lot of space. Taking them out so we could bring the TV lower onto the unit made a lot more space in our room.
We covered up the pocket door with a curtain which makes the area look cleaner and more relaxing. Also, because we need a light in this corner of the room, I feel like it's not as weird to have a floor lamp in front of a curtain, as floor lamps are very flexible and can be positioned anyhow, whereas before it felt a little strange to place a lamp in front of a door.
I decorated with more of these CANVAS Market Baskets because, well, I love the look of them and they are great storage for remotes and other things we want to hide.
This area just feels cleaner and more modern now. It was some simple changes that really made us enjoy our bedroom a lot more!
Product list for this area:
You can see more CANVAS Room Refreshes with Jillian Harris at CanadianTire.ca.
This blog post was sponsored by Canadian Tire, I'm always pleased to get to work with companies that I've loved for years.