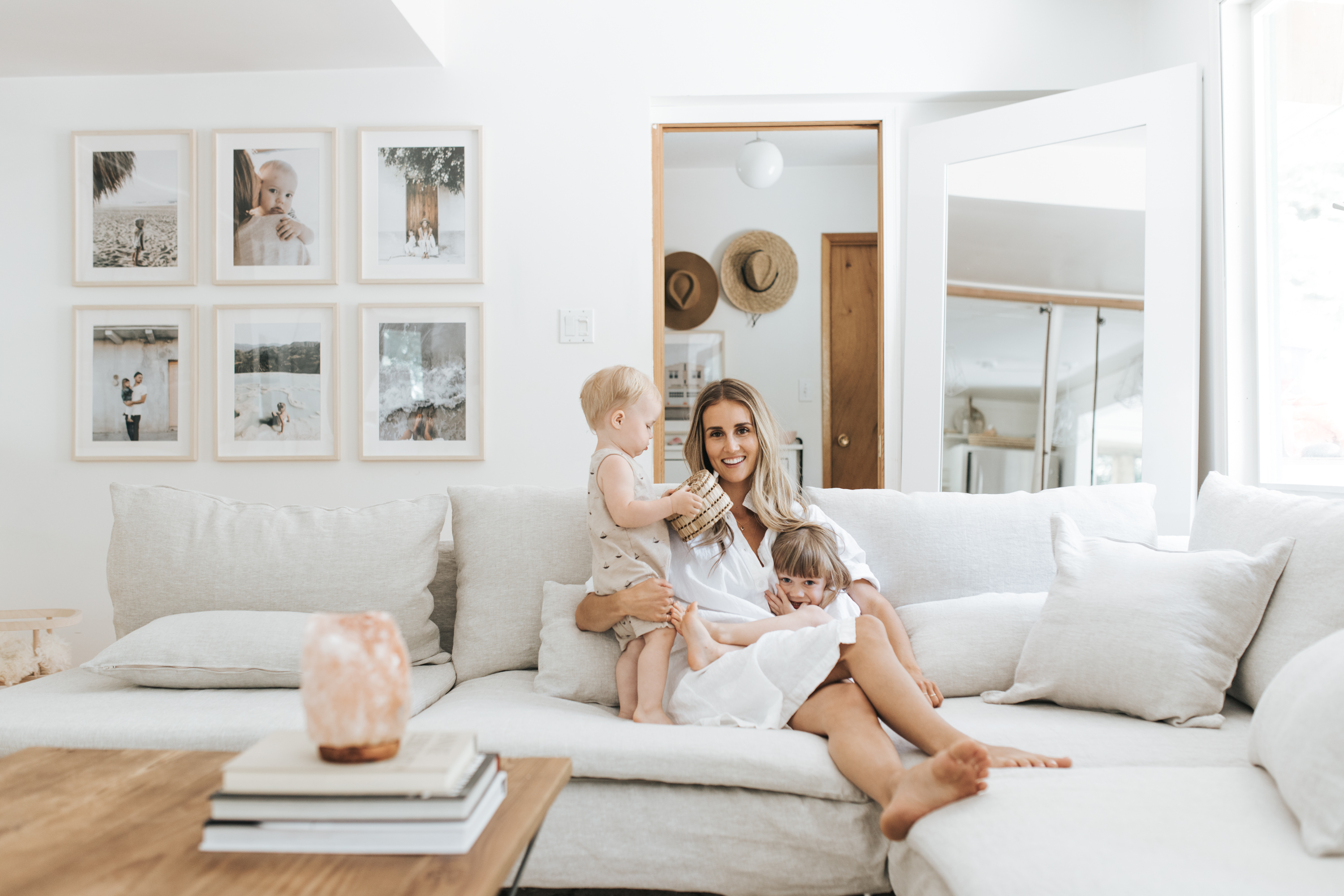 I often get asked on Instagram about who makes our sofa, and it is actually just from IKEA. But we love it! We wanted to switch from our leather couch to a fabric sectional just to have a more comfortable and welcoming place to seat groups of people. It took a while for us to switch, simply because it took me ages to settle on the perfect sectional couch for us! I spent quite a while taking a look at designs online; Lulu and Georgia had particularly elegant and stylish sectional couches! In all honesty, though, I was too scared that the children would ruin such a beautiful piece of furniture with them being so young. Even though switching from leather to fabric with kids this age is usually the opposite of what people do I wanted comfort, and I don't regret it at all. However, we would like to install another leather couch in a different room in the near future. They can actually last a long time especially when bringing back moisture to dry leather isn't an issue.
If you are thinking about redecorating your house, but are unsure about what to do, then that's fine. Sometimes picking new furniture can be a daunting task, there are loads of furniture companies out there such as furniture in fashion that sometimes it can be hard to come to a decision. But once you manage to decide what you want, you'll feel a lot better about it all.
You've probably seen this sofa in a light pink color on my feed. That is the color of the covers that we purchased the sofa with from IKEA but I knew when we were deciding on which color to get that I would also want get covers for it down the road. I must say how easy it was set up the sofa thanks to the Flat pack Assembly Services that are partnered with IKEA! With how quickly I jump from trend to trend I knew the pink would only last so long in here and also it's such a light color that over time it's bound to get stained from the kids.
While deciding on the Soderhamn sofa I also came across BEMZ, the most brilliant company ever. They make beautiful covers for all styles of IKEA couches, here are the covers specifically for the Soderhamn. The covers are sewn to order (to minimise waste) in Europe, machine washable (hallelujah!), and available in endless fabric options. Even if you're just contemplating the idea, you can order 5 free fabric swatches from their website to get a feel for it.
I knew I wanted to go for something very organic feeling and I settled on an unbleached linen called Brero Lino Natural. The linen is so comfy looking (and feeling) linen is quite durable and only gets better over time in my opinion.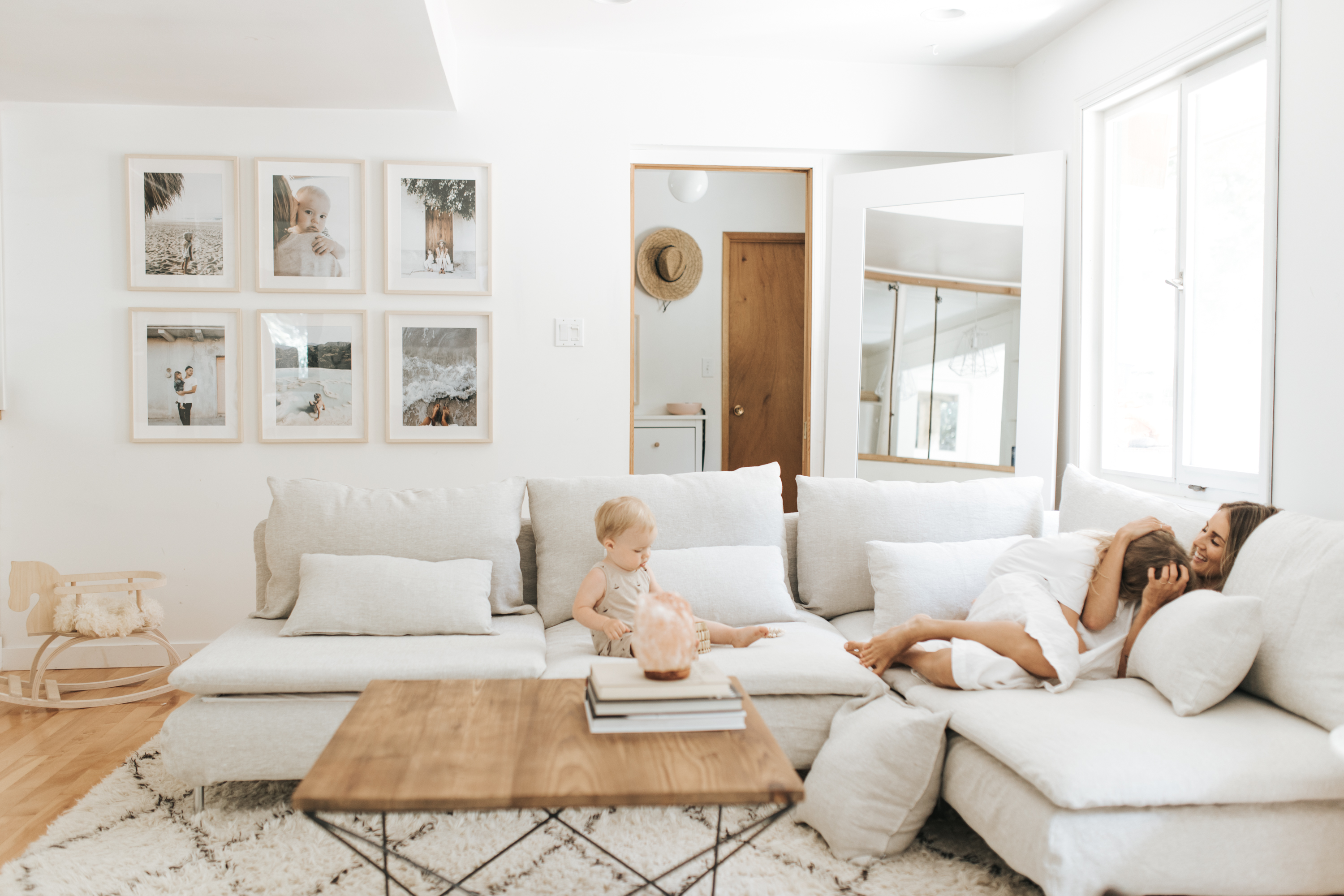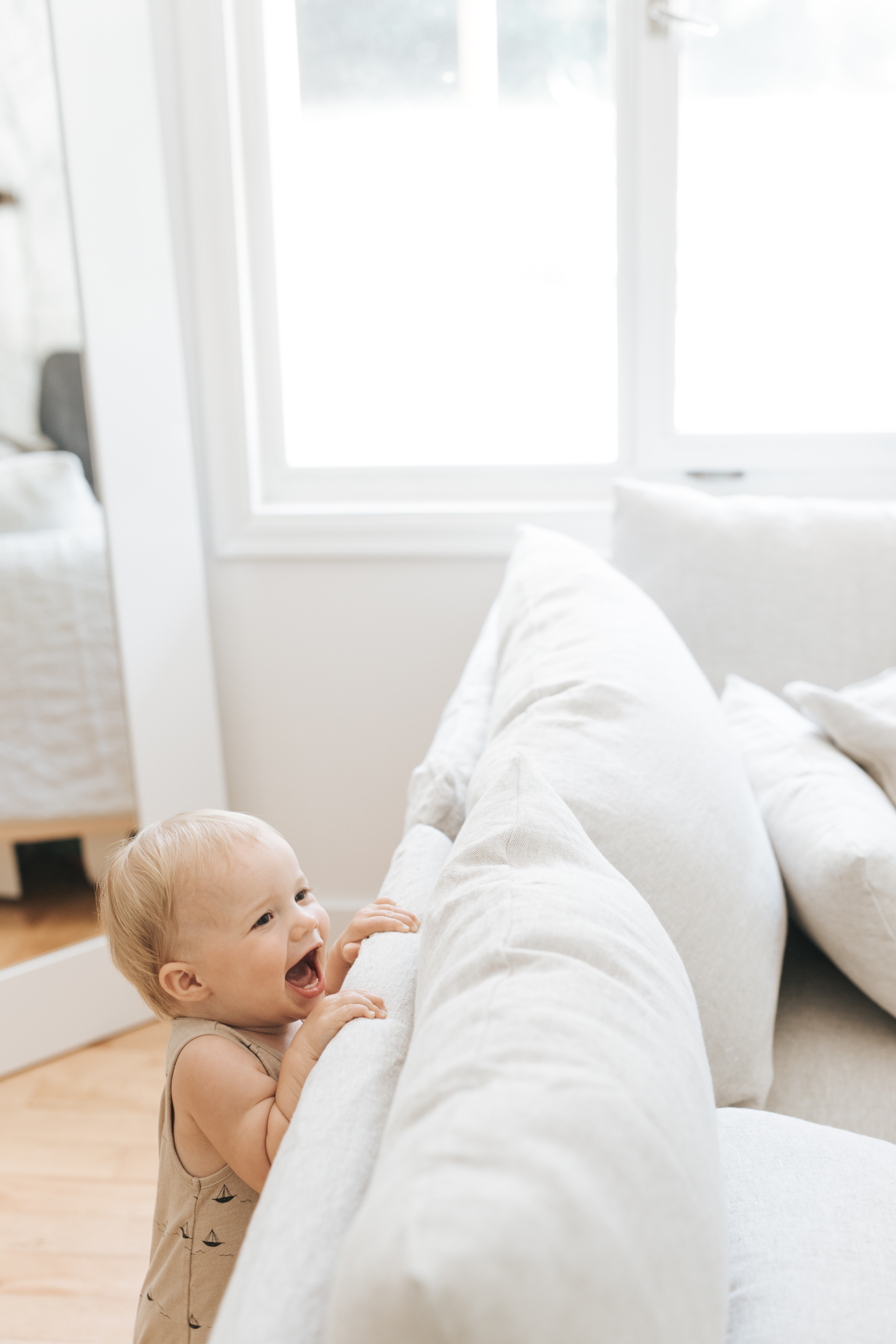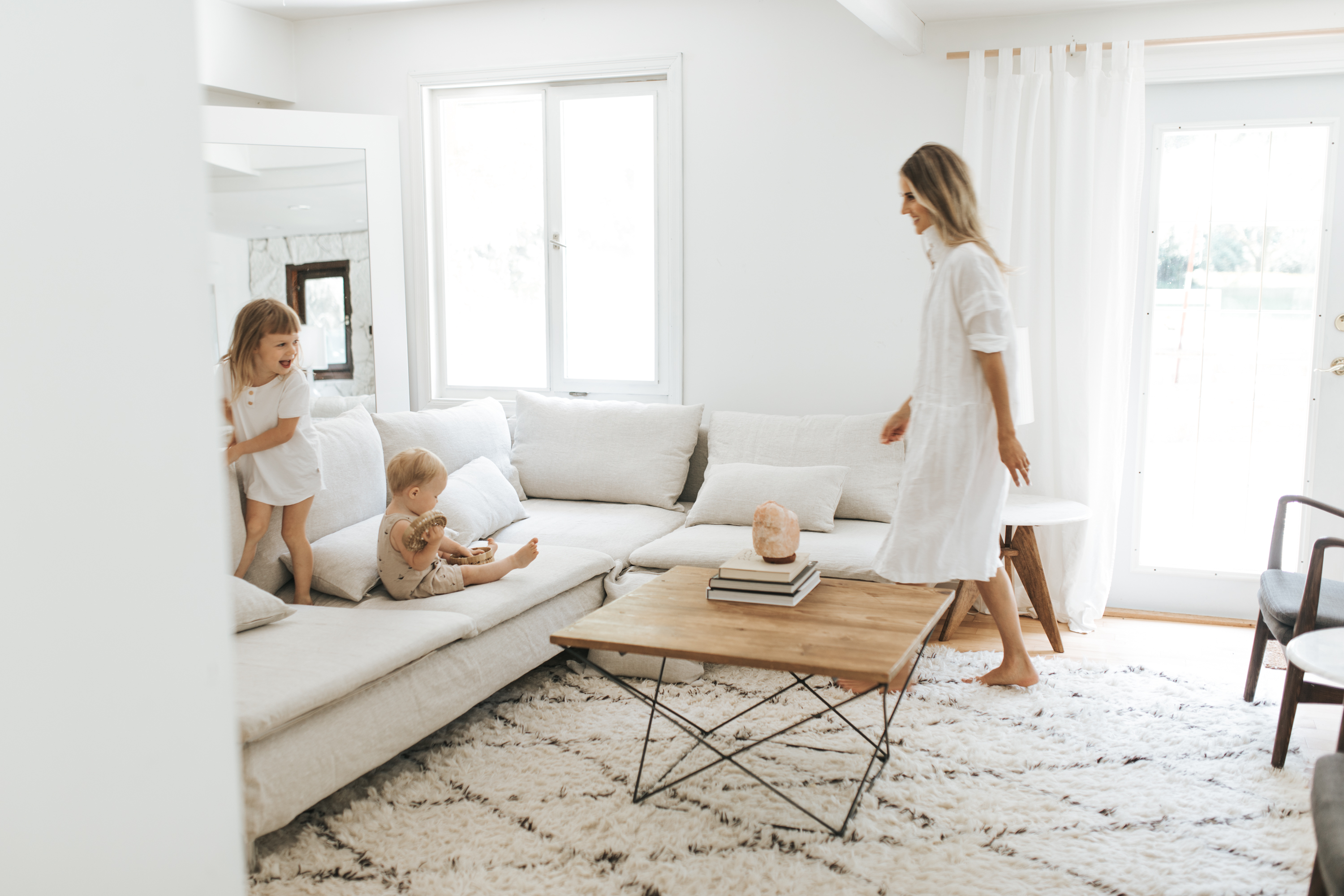 FAQ:
–Which Soderhamn arrangement is this? This is the Soherhamn 4 seat sectional, when I was looking at the sofa online I thought I would definitely want the 5 seater. But then I measured out in my living room and realized that it was huge. and 4 seater and been lots of sitting room for us.
–How many covers did you buy for this sofa? For the 4 seater you will need a 3 seater cover, a corner cover, and a single seat cover (this section is listed under armchairs).
–Is this sofa comfortable? Yes! I the pillows are thin, it's not a seat you're going to sink into (which aesthetically I like). But the depth of the couch is what gives it it's comfort in my opinion. The BEMZ covers make it feel that much comfier, because the fabric is obviously much better quality that the IKEA fabric.
–Where are your frames from? The frames are from IKEA, HOVSTA Frame in 16X20.
–Where did you get the photos printed? I ordered these prints through Staples, they are 12X18 photo enlargements. I ordered them online and picked them up in store and the quality looks great.
Anymore questions, please ask in the comments and I will do my best to respond.