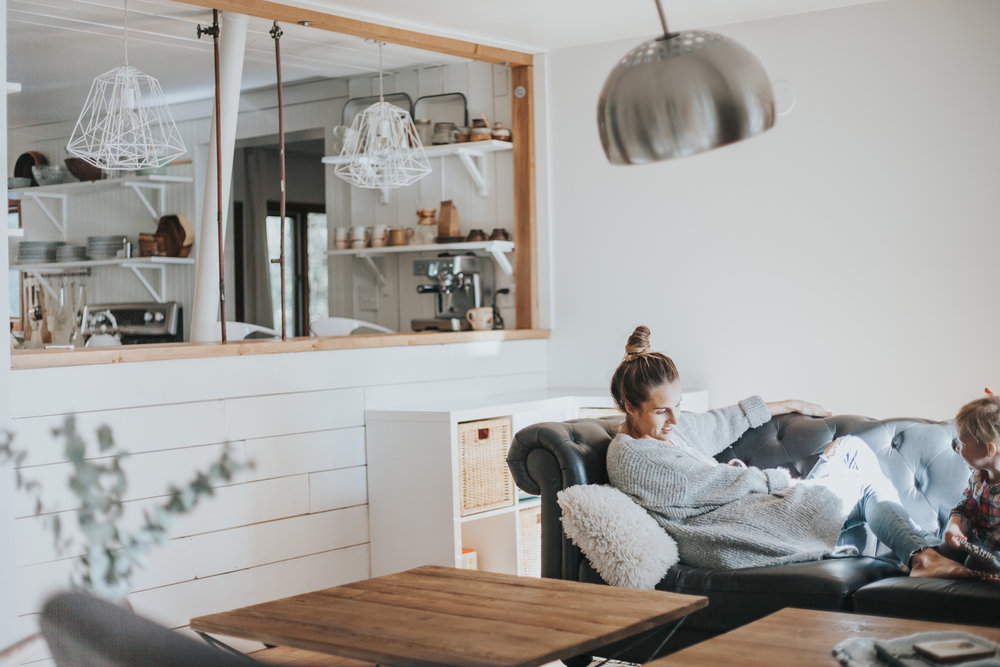 This spring we took on the project of tackling our family room & kitchen. We live in a old cabin like house, small windows, lots of walls and low ceilings, so it's easy for it too feel closed off and dark. Having said that, I love the rustic feel to our house! Although cabins are associated with getaway homes, I know plenty of people who would want to live in a log cabin full-time. It all depends on your style and preference, but as much as I love my cabin-like home, I feel the darkness is starting to give it a gloomy feel. We had been wanting to open up and brighten it up with some interior updates this winter, and the changes we made really did that.
The biggest thing we did was cutout that wall looking into the kitchen (before photos are at the bottom of the post – the first photo shows that wall before). Opening that up makes it feel much bigger and it's so nice having our two main rooms connected.
We furnished our new family room with wonderful AllModern. An awesome decor shop online, they also have an app that I was addicted to while planning the room. They have a huge variety of different styles & price ranges, they basically had everything I could have been looking for. I've shared a list of links to our items below.
These beautiful rugs are from rugsusa.com, I've ordered many rugs from them over the years, love them! These Chembra Flatweave Trellis rugs have been my favourite yet. We live in the rainy woods, have a huge shedding dog and a toddler, so my main criteria was durable. These ones have been so practical, very forgiving to little marks on them, even the darker patch where the dog likes to lay down when were not in the room blends in. Plus, the pattern is beautiful! If you're going to be buying a new rug then check out this blog entry on how to choose the right rug for you.
Another big change in updating and brightening this room was painting this wall white. I wanted to do it for years, but convincing David was a bit of work 😉 and I admit that it was a big job but SO worth it (here I am getting to business). We borrowed a spray gun from friends which made the job easy, taping and tarping the room off was the big task. Spraying the paint goes everyyyywhereee so we had to tape off every single crack and crevice that we didn't want to be coated white. For the cleanup job afterwards, we could have used something like this – https://www.bissell.com/vacuums/stick-and-cordless-vacuums
I get asked all the time where these lovely belly baskets are from. They are from an online shop local to Vancouver here, Drifter.
I wanted to create a toy corner for Poppy that didn't take over our family room with kid stuff all the time. I decided to go with the classic Ikea Kallax unit & boxes, it's been super practical, she stuffs all her toys into the boxes and shelves at the end of the day.
Adding that full length mirror in the corner makes the room feel a lot bigger. It took me a long time to figure out what to do with that dark corner behind the couch and when we tried the mirror it immediately felt like the room opened up. (Before photos are at the bottom of the post – this corner is in the third photo where Poppy's high chair is).
This is the view from the kitchen, we took the door off the hinges after we made the cutout in the wall to keep it feeling open up.
She is only getting away with opening this drawer because I'm taking pictures…

Source List
Armchairs – AllModern
Coffee Tables – AllModern (these specific one's are no longer online, but there are lots similar)
Side Tables – AllModern (again, these specific one's are no longer online, but there are lots similar)
Couch – Urban Barn
Throw Cushions – AllModern
Lamps – AllModern
Console Tables – AllModern
Floor Mirrors – AllModern
Rugs – Rugsusa
Sheepskin Potterybarn
Storage Unit – IKEA
Pendant Lights (in kitchen) – Structube
Baskets – Drifter

---
Our family room before
We don't have any official before photos, mostly because our family room wasn't overly photogenic but here are some photos from Poppy's birthday parties to give you a feel for it.
Above is the wall that we cutout to the kitchen.
Here is the rock wall in its natural colour. Obviously we didn't have a pig in that pen on a regular basis 😉 The pen was usually filled with blankets and pillows for hanging out and cuddling by the fireplace.
See more of our home projects on our hashtag #menziehomefrenzy – I'll be sharing the kitchen next week.