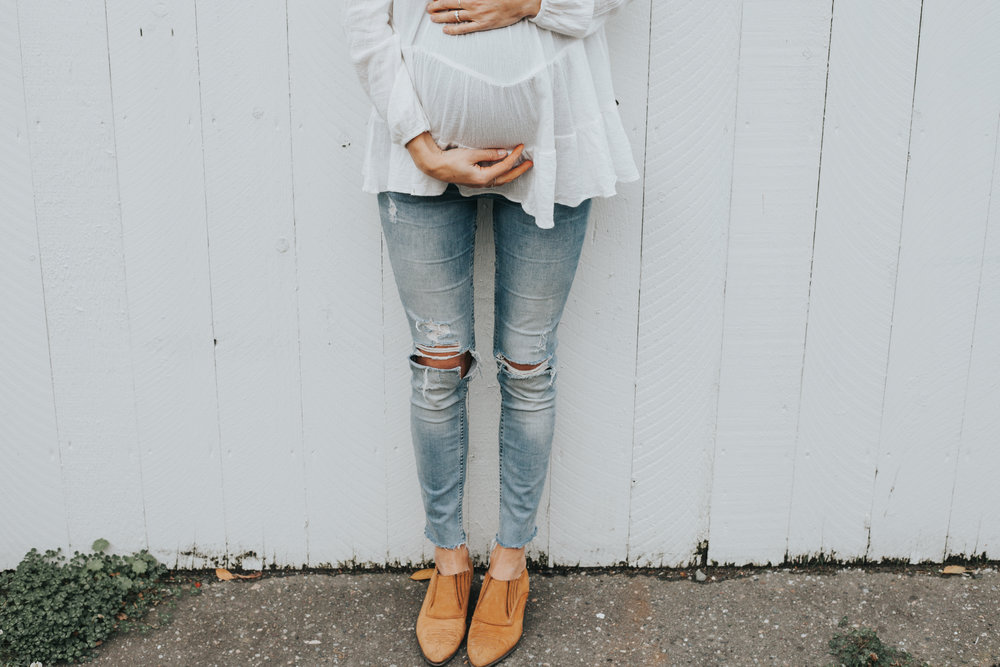 We have hit the third trimester and this boy is starting to take up more real estate inside of me. It feels like he is constantly moving around these days, hiccuping, and kickboxing with my bladder, he's so low!
With this being our third I feel so connected to him as a little person already. He already feels like my little baby we're just separated by some stretching itchy skin between us, I can feel his head, poke his feet, and picture exactly what he looks like if they last two newborns were an indication.
We named him as soon as we found out the gender at 20 weeks, the name we've had since our first pregnancy which kind of makes it feel like I've always known/imagined that little boy. Mostly just because we had a name for him haha. So it feels like were really rounding our family out by adding this imaginary boy we always talked about before he existed. When we first found out at the 20 week ultrasound that it was (very obviously) a boy, We were shocked! David was hoping a little bit for a girl because he's worried about a boy messing with his calm atmosphere, but he has been coming around more and more since then and getting excited about all the special things that go with having a son.
I can't say this pregnancy has been the easiest physically, it has kept me quite restricted in what I can handle. I haven't been grocery shopping, going for walks, and avoid standing as much as possible. When you're pregnant people always ask you first how are you feeling, and sometimes I get into it, a lot of the time "pretty good" is enough of a description. But it's going so quickly and I know these last couple months will be the fasted of all.
David is definitely counting down the days until I'm back to normal Bethany. He's really stepped up with what he takes on around the house and with Poppy which seriously means the world to me, seeing him empty the dishwasher and vacuum daily couldn't make me love him more. I think he's getting sick of hearing "can you grab that for me, If I stand up I'll give birth", "Sorry, but I need the whole couch to myself just for the first episode", looking over at me sobbing every Survivor episode, and every other request that involves extra personal space. Last night we had friends over for dinner and we were talking about love languages, David said "Mine is definitely touch, but it's starting to change since I don't get that anymore." haha, oops… We're almost there baby, and then winneeee time!

I'm wearing the jeans linked above, I just turned them into maternity jeans using a DIY like this.